Liturgy & Music
Celebration of the Sacraments is central to our mission as a Catholic parish and ministry. Mass and confession are offered daily and, beginning fall of 2016, our Eucharistic Adoration hours nearly doubled. The Newman Center also invites students to be a part of the choral department. For students wanting to experience spiritual awakenings and growth in other ways, the following are also provided: weekend retreats, individual discernment retreats, marriage preparation, spiritual direction & vocation discernment, Holy Spirit Boot Camp (FOCUS), RCIA (Rite of Christian Initiation of Adults) classes, student-led prayer team.
Donate to the Liturgy & Music program here.
---
Liturgy
Mass Schedule
Sunday: 10:00am, 11:30am, 5:30pm, 10:00pm
Monday - Thursday: 5:30pm, 10:00pm
Friday: 12:00pm, 5:30pm
Saturday: 8:00am, 12:00pm
Confession Schedule
Sunday: 4:30pm-5:20pm & 9:00pm-9:50pm
Monday - Thursday: 4:45pm - 5:20pm & 9:00pm - 9:50pm
Friday: 4:45pm - 5:20pm
Saturday: 11:30am - 11:50am
Eucharistic Adoration Schedule
Monday - Thursday: 10:00am - 5:30pm & 6:00pm - 10:00pm
Friday: 10:00am-12:00pm & 12:30pm - 5:30pm
Below are some of the highlights of liturgical events the Newman Center holds throughout the year.
Eucharistic Procession
Every year in late October, over 400 students and guests process around campus adoring Christ in the Eucharist. We have heard beautiful stories of how this procession has impacted bystanders. The public is invited and encouraged to come to this amazing event on October 27, 2016. The evening begins with Mass at the Newman Center at 7pm and the procession follows.
Nightfever
Nightfever is an event currently taking place in over 80 cities worldwide. In 2015, students organized the event at the UNL Newman Center for the first time. Once a semester since then, dozens of students work the streets around St. Thomas Aquinas Church and invite any and all passers-by to come into the church to say a prayer for whatever intention they may have on their heart. Once inside the darkened church, they come face to face with the exposed Blessed Sacrament where they can light a votive candle for their intention.
"Friday Night Fever is truly an inspirational, hope-filled event that is literally at the heart of the New Evangelization. I have never seen a more beautiful ecumenical event in my life. Hundreds of young people are exposed to the Catholic faith for the first time and experience the love that Christ intends for us to share. It is truly a powerful moment to observe and to be a part of." -John Miller, Newman Center Supporter
Mass Particiaption
Students have an opportunity to experience the Liturgy in new ways by serving as Acolytes, Lectors, and Readers during the Masses.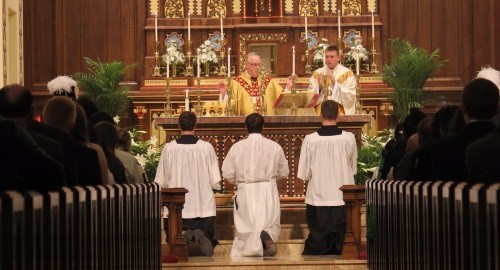 ---
Music
Students join in song during all Sunday Masses and weekday 10:00pm Masses. They are able to be part of the choir, be vocalists, and instrumentalists. We currently have 92 students in 7 choirs at the Newman Center.