Foundations for Vocations
For decades, the UNL Newman Center has been helping students build foundations for vocations! The Graffs, who met at the University of Nebraska–Lincoln Newman "Club" in 1948, are a prime example.
---
Alumni in Action: James O'Neil
"James O'Neil . . . the North American College, Rome."  When Bishop Conley sat down with the senior class of St. Gregory the Great Seminary in Seward, NE, these were words I didn't expect to hear.  We had been looking forward to receiving our assignments for many weeks, and it was with both excitement and some trepidation that we waited for the bishop to turn to each of us and tell us where we would be spending our next four years of seminary.  I was last in line, and by the time the bishop turned to me I thought I knew what he would say.  I certainly did not.
Before entering seminary in 2014, I attended the University of Nebraska.  I was only in Lincoln for one brief year, but that year has decidedly shaped my life.  On beginning college I joined Phi Kappa Theta Fraternity, and there I found something I hadn't fully experienced before—men my age who were active in the faith and dedicated to living it out.  In this environment, it was easy to get involved in the Newman Center.  I began attending daily Mass, and through Newman Center events like community nights and Koinonia retreats I made many good friends.  
It was also through the Newman Center that I decided to enter seminary.  A powerful prayer experience on a FOCUS retreat—really, a unique encounter with the Holy Spirit—convinced me to try it out, and less than two weeks later I sat down in Fr. Matya's office and he handed me an application.  Now I've been in the seminary for three years, and have four years still to go.  It's been challenging, but fruitful.  And soon I will begin the next stage of my discernment in my new assignment in Rome.  While the reality of Rome has not fully sunk in, I am honored and excited for the unique experience of living and studying in the Eternal City.  I will leave for Rome this summer, and, God willing, after four years I will be ordained a priest of Jesus Christ. 
I ask that you keep myself and all of my brother seminarians in your prayers as we continue our studies and our discernment! Know that you are in our prayers as well.
-James O'Neil
James is one of 21 Phi Kappa Theta Catholic Fraternity members to enter the seminary in the past 11 years. Donate to the Newman Center today to help inspire other students in their vocations.
---
HuskerCatholic Newsletter 2017
---
SEEK, My Story: Claire Theisen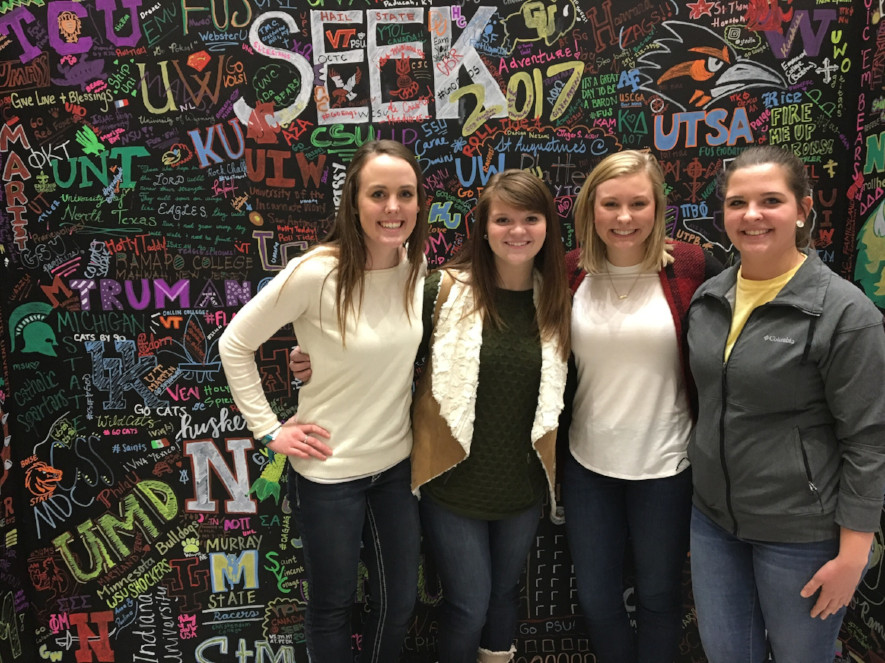 The Newman Center took about 400 students to San Antonio for a 5-day SEEK Conference presented by FOCUS toward the end of holiday break. Thank you for your prayers! God certainly responded with abundant graces for our students as they joined over 12,000 others from around the country to grow in their relationship with God. We asked a few of our students, including Claire Theisen, a freshman pre-nursing student, to write a daily journal entry about their experience.
Tuesday, January 3: There was no better way to begin this conference than to celebrate Mass with 12,000 people. To me, one of the most beautiful things was the entrance procession of hundreds of priests that came to SEEK. These men gave their entire lives to Jesus! It was especially wonderful to see our own priests, Father Matya and Father Mills, and even our bishop of Lincoln, James D. Conley.
James 4:8 says, "Draw near to God, and He will draw near to you." We are all God's sons and daughters and to we must come to Him in order to build that relationship with Him. Most of my life I have waited for Him to come speak to me, but I have realized that He has waited for me to come to Him so that our relationship may grow and I may be able to feel His love for me.
Wednesday, January 4: Dr. Sri spoke to us today. He said that all the anxiety and stress we feel all comes down to two things: image and success. In my life, I have focused a lot on my appearance and always worry about what clothes I am wearing, how much makeup I have on, and how I look compared to others. I learned today that I don't have to earn my image because it has already been freely given to me. In fact, God made us all in His image and so we must focus on how we treat and love others the way God would.
"We were made to love and to be loved," as Saint Mother Theresa said. This is important because the world has twisted our view of love. "What can you do for me?" is not love at all. To be able to show our love for others, we must lead them to our Lord and want what is best for the other person. When God looks at us He sees His masterpiece, and I know now that I need to begin to treat and respect others and myself as God's own perfect masterpiece.
Thursday, January 5: So far, the part of this experience that impacted me the most was group Adoration. At the beginning of Adoration, I sat there expecting to hear God speak to me. I waited for almost an hour and felt absolutely nothing. It seemed like God was talking to everyone around me, but not me. But then, the priests began to process around with Jesus in the Monstrance. They walked right past me and I began to feel peace in my heart. When the people around me began to stand and raise their hands towards Jesus, I knew that He was right there at that moment and I began to feel His deep love for me. What tugged at my heart the most was when people began to walk behind the Monstrance with raised hands creating a train of hundreds of people. I have never felt Jesus' love for me more than at that moment. I realized that it's the people around you that can show the love of Jesus, which is why it is important to surround yourself with people who love Jesus just as much or more than you do.
It was also beautiful to see the thousands of people who waited in line for Confession, and the hundreds of priests that were hearing Confessions. Confession is an amazing way to give Him permission to love and forgive you. For me, it is hard to go because I am afraid of what He may think of me. But I have to be willing to allow God to forgive no matter what I have done because I know that He loves me no matter what.
Friday, January 6: Today's keynote speaker, Fr. Mike Schmitz, said that every encounter with another person is an encounter with God. I have never thought about it like this before. I realize now that I need to begin to look at the world the way Jesus looks at the world. I need to love everyone no matter what they have done or said.
Saturday, January 7: I came to SEEK expecting it to be the same as every other Catholic conference I have attended. A lot of times I leave those conferences on fire for my faith, but within days I am back to where I was before. It is so hard to continue living a strong Catholic life when everyone else doesn't seem to care. I am leaving this conference on fire for my faith, but I also know that nothing in my life will change unless I make a conscious effort to change it.
On day one we were asked, "What Moves You?" I discovered this week that what moves me is seeing the love of Jesus in others. What moves me is seeing thousands of young Catholics come to celebrate our Lord. What moves me is being the person that Christ made me to be. Since college, I have tried being different people all at once. I looked for friendships and God in all of the wrong places. I lost who I was and who I wanted to be. But this conference was something that completely turned that around. I have never felt more love and peace than I do now. I want to become the best version of myself, and I want to love like Christ loves. I want to be the person that strives to bring her family and friends to Heaven. This conference was an amazing experience, and because of it I have developed a deeper love and friendship with Jesus.
God is certainly working in the lives of students like Claire! Support them in their growing faith by donating to the Newman Center today.
---
FOCUS Greek: Kayla Found Her "Home" During College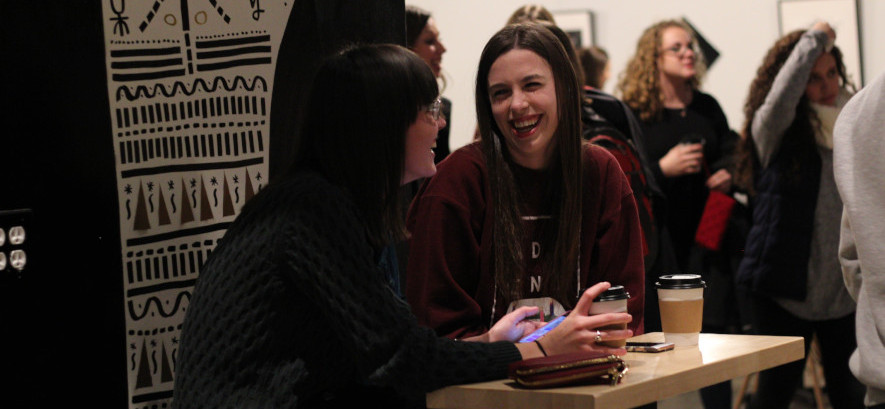 We often hear students say that they feel "at home" at the Newman Center. What an amazing feeling for students that have traveled across town, state lines or even the ocean to be at UNL. We are a big family here, providing academic, emotional and spiritual support for one another on a daily basis. Beyond that, the Newman Center provides opportunities to be part of smaller specific-interest communities like FOCUS's Varsity Catholic, a student athlete outreach; Daughters of Mary, a women's outreach focused on forming relationships with the Virgin Mother; and the Pray for Babies group, a pro-life outreach.
Among these, FOCUS Greek holds its place under the national organization FOCUS (Fellowship of Catholic University Students) and is aimed at offering spiritual growth opportunities for Greek students on campus. This fall, so many students were attending the weekly meetings that gathering at a Greek house was no longer an option. The group began meeting in the Newman Center's backyard and have since moved to the parish hall. We are so glad to be able to accommodate the hundreds of Greek students that attend!
Fourteen students and FOCUS missionaries serve as executive officers who plan and execute all of the events. Besides the occasional socials (the group's most recent event was an Advent party at a local coffee shop), the events usually consist of a talk followed by small group discussion and Q&A session. The speakers range from priests to students to alumni on topics ranging from prayer to alcohol to dating.
Here is a word from one of our officers, senior speech pathology major Kayla West.
"I have been involved at the Newman Center since my freshman year but not seriously involved until halfway through my sophomore year. It seems like I've been attending FOCUS Greek for as long as I can remember! I am just finishing up my year-long term serving as secretary on the FOCUS Greek exec team.
During my time on exec, we really tried to foster the community aspect of our group because it's those bonds and personal encounters that really make the biggest difference (I can say that from experience!). Throughout my time at UNL, it has been so encouraging to be able to walk into a room every week and know that each person there is not only a fellow college student striving for Christ, but a fellow college student striving for Christ who is also part of the Greek system and knows the specific benefits and trials of that culture on campus. I think that's important for every student who attends our events- just knowing they're not alone.
In addition to our community, we have great events. We pick people who speak on subjects that are important and relevant to Greek college students trying to live a Catholic life. I can honestly say talks at FOCUS Greek have changed my life. Fr. Mills' talks have helped me come to a deeper understanding of the Mass and get more out of it. Chas Bogatz, a fellow student, gave a talk that helped me gain a new respect for the Sabbath (it is now my favorite day of the week!). Mission trip testimonies from fellow students encouraged me to go on a mission trip that was one of the best experiences of my life. I could keep going, but I think I've made my point!
One of the coolest parts of my time on exec was this semester when we had a student and a recent UNL alumnus approach us on separate occasions, each asking to speak on a topic they were passionate about. How amazing is it that we are given this platform where students can take that initiative to literally stand up and witness to Christ and where we, in turn, can learn the Gospel from our peers? It's incredible. I am so encouraged by our student speakers, and their example has inspired me not to be afraid of sharing the faith with my peers. I hope that these are all things that every student who attends FOCUS Greek takes away- knowing they're not alone, learning something new, and being emboldened to be lights for Christ on our campus."
We are so grateful to have students like Kayla be Christ-like examples on campus. Support our student leaders by donating to the Newman Center today!
---
Student Stories: Amy Reisen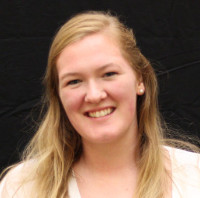 Amy Reisen was a freshman at UNL when some friends encouraged her to take part in a mission trip to Denver to work with the Little Sisters of the Poor. Students from the Newman Center embark on many trips across the nation over spring break each year. These trips are student-led and the type of work varies depending on the organization or religious order that hosts them. Founded by Saint Jeanne Jugan, the Little Sisters consecrate themselves fully to the service of the elderly poor with the mission of running residential homes and accompanying their residents until God calls them. The group of seven students cleaned, organized activities, served meals, and spent time getting to know the residents.
Upon arriving at college, Amy described herself as a shy person who didn't ever really talk about her Catholic faith. Growing up in the small town of Ashland, Nebraska, the transition to such a big school was difficult. Needless to say, the whole mission trip thing pushed her way out of her comfort zone.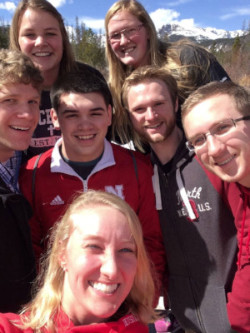 But one evening during her week in Denver, she found herself conversing with one of her fellow missionaries late into the night. Her experience on the trip thus far had proven to be an atmosphere of love, and Amy felt she could share her honest experience of God, her desires, and her fears with this new friend. "It was then I realized that this person believed in me more than I did."
She remembers driving into the mountains, hiking to a peak, and standing there in awe. Perhaps it was the beautiful landscape or the wide-open air before her, but Amy found a new trust in God that day. "I realized God wants to love me, and it's just a matter accepting that love." Amy reflected on that week, "The work the sisters did was beautiful, and as much as I want to say that that's what changed my life, it was my fellow missionaries that did."
Coming back to Nebraska with a new perspective on life was exciting for Amy. "I just danced for, like, two weeks straight," she laughed, "And even when things settled back down into a normal routine, I felt changed. I wasn't anxious; there weren't knots in my stomach anymore."
 
But she knew the journey couldn't end there. She had always gone to Mass, but now it was not because that was what she was told to do, it was because there was something she "hadn't quite gotten yet" and she wanted to know more. Her eyes were opened to the love God was waiting to give, and she discovered that more and more in the following years.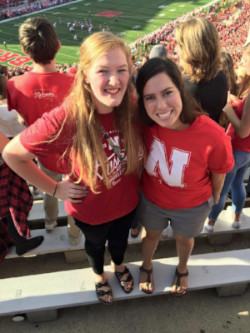 Now a junior at UNL, Amy serves on the Newman Center board as the Daughters of Mary chair, and is mentored by a FOCUS missionary, Katie, who meets with her weekly. Amy mentors two students, leads her own bible study, and also works as the Youth Ministry Coordinator at North American Martyrs Church.
 
Two years ago on a Newman Center pamphlet, Amy read, "Welcome to your new home!" She doubted it then, but now says, "It's like my own little Ashland in Lincoln. And I promote it with about half of my wardrobe… I want people to know I belong to the Newman Center and have a life-changing experience like I did."
Inspired by Amy's story? Donate now to help other students find Christ! Select "Mail Appeal" as the prompt.
---
Eucharistic Procession Brings Christ to Campus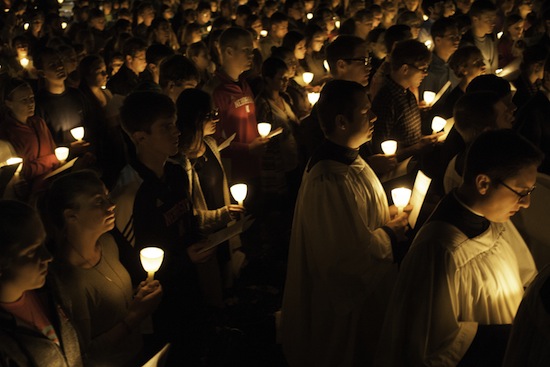 On a beautiful Thursday night, the 27th of October, we held our 9th annual Eucharistic Procession through campus. Over 400 people came to bless our campus with Our Lord's presence including Bishop Conley, a handful of priests, over thirty seminarians, about two dozen religious brothers and sisters and hundreds of students and visitors. After Mass we ignited the incense and headed out. The procession lasted over an hour as we made our way to the steps of Broyhill Fountain by the Union. From there we processed to Memorial Stadium and gave Bob Devaney an opportunity to gaze at our Lord's True Presence. One more stop at 16th & Vine Street allowed us to ponder how the saints are processing with us before processing down Greek row back into the Newman Center. The wind stayed calm, thanks to the many prayers of our cloistered religious who were with us in spirit begging Christ to consume our campus with His love. The fruits of the procession will be felt in the months to come, as will the numerous pictures, videos and SnapChats that were taken by onlookers throughout.

One moment stands out more than any other. As we passed by the Lutheran Student Center on 16th street a handful of students had already seen the procession by the union and texted their friends, "Look what the Catholics are doing!" As we passed their center, Logan Burda, one of our FOCUS missionaries, went up to their doorway and asked them to join our procession. And they did! They came with us to the Newman Center and he took them up the side directly in front of the religious sisters and behind the communion rail. The sisters passed forward their St. Michael Hymnals so they could sing the Pange Lingua with us. They watched intently as Bishop Conley did Benediction -- taking note of everything he wore, said, and did. Afterwards they had the opportunity to talk with him and ask him tons of questions about what they experienced, what the Church teaches about Transubstantiation and his own conversion. It sparked something in them that the Holy Spirit can now take and run with. His fruits come in unexpected and varied ways. We just have to try to cultivate opportunities for Him to work. And that's why I love this place and this procession! Praised be Jesus Christ!
---
Student Stories: Mitch Faltin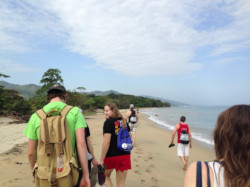 There I was, another college student trying to get by in school and avoid as much responsibility as possible. I had friends and all the good times I could ask for. Then, unexpectedly, I was offered the opportunity to engage in a life of joy beyond what I knew, and mercy beyond what I deserved, by a carpenter and His living spirit. 
In March of 2014, I went on a FOCUS mission trip to Honduras with a group of current students and alumni from the UNL Newman Center. I went hoping to help the orphans at La Finca Del Nino and explore my faith in an environment away from the pressures of the college world. While there, I was introduced to the simplicity and beauty of self-giving love, to the divine response to prayers, to the richness of Catholic fellowship, and to a calling of lifelong mission.  
Other students on the trip shared their stories of when they first encountered Christ, many through the UNL Newman Center, and I realized I was just beginning to encounter my faith in a new way.  It was, without a doubt, the most impactful thing that has ever happened to me. Interiorly, I returned with my heart healed, but to a suddenly scary world. 
Amidst my confusion and fear, God sent me a companion who catalyzed my relationship with Christ. At the Newman Center, I met JohnMarc Skoch, a FOCUS missionary who is now one of my closest friends. Working with him brought about a profoundly deep understanding of contemplative prayer and an active spiritual life. But it wasn't just him.
I got to know the rest of the mission team, the community around the Newman Center, the priests, and a group of men at the Newman Center that have been my brothers in my spiritual development.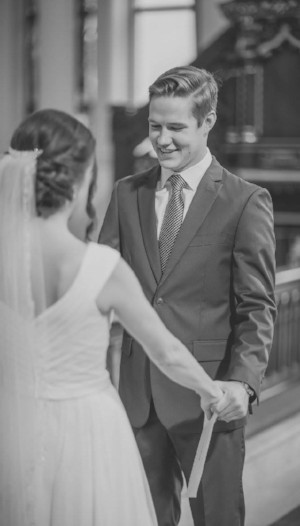 At the Newman Center, I fell in love with the Church, the Holy Mass, the sacraments, catechesis, and scripture! It was difficult at first to understand what this new world meant for me. But after an initial period of exciting exploration and newness, I felt an awareness that I was being called (as all Catholics are) to a life of mission. 
I spent many hours in the St. Thomas Aquinas Church discerning what kind of missionary I was being asked to be. After a time of turmoil and turbulence, I was blessed with clarity and conviction. I knew very well, through the promptings of the Holy Spirit, that my vocation was to the married life and my mission was that of a father and colleague in the engineering sector. 
Kate, my new bride, experienced a deeper love for the Catholic Church through those she met at the Newman Center.  She has been my companion and friend through many difficult times, always pointing me towards God's kingdom. At the foot of the altar in the St. Thomas Aquinas Church, our spiritual home, on November 14, 2015, I proposed to her and we said our vows in that same spot on July 15, 2016.
There is no question that the work and ministry of the Newman Center on the UNL campus is effective! I am now confident in my faith and my mission going out into the world. The connections and friendships I have made in that community have transformed my life in ways that two years ago, I didn't think were possible. 
Father Matya and Father Mills have created a place, in an increasingly sad world, of mercy and joy and love. I now know the power of contemplative prayer. I know how to encounter others and love them as they are. I know how to inspire transformation, and most importantly, I intimately know the person of Christ. He is my friend, my guide, and my Lord. 
All of us are called to do the great work of evangelization, and my time at the UNL Newman Center has prepared me for a life of holiness and Catholic outreach. 
Yours in Christ,
Mitch Faltin, 
UNL Newman Center 2016 graduate
Inspired by Mitch's story? Donate now to help other students find Christ! Select "Mail Appeal" as the prompt.
---
Welcome Back, Students!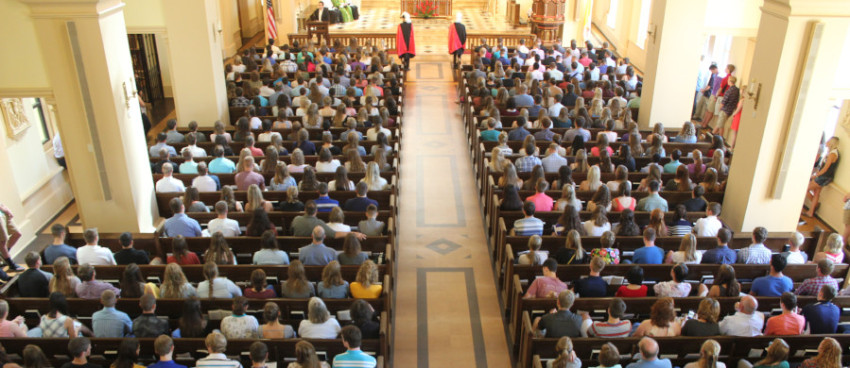 The Newman Center – St. Thomas Aquinas Church's ministries continue to experience amazing results, both in the number of students involved and the impact they have in the lives of today's Catholic college students at the University of Nebraska-Lincoln.  Students, parents and other guests have all responded overwhelmingly in favor of the newly constructed Gothic-style church, with its striking artistic finishes and its remarkable acoustics.  The church was envisioned to inspire a deeper, spiritual reflection – a dialogue with Christ – and by all measures, it appears that is happening. 
The most inspiring and beautiful part of our expansion project is found with our students and the impact it's already having in so many lives!  The first Sunday of the 2016 fall semester, we had over 800 students in attendance at one Mass alone!  The church was overflowing with enthusiastic young people, eager to learn and grow in their Catholic Faith. These numbers were unfathomable with the old, 300-seat church.  With four Masses offered every Sunday, our total attendance is already exceeding 2,000 students each weekend!
---
Spreading the Good News on EWTN!
"I watched the show last night about the University of Nebraska. It was, possibly, one of the most exciting shows that I have ever seen on EWTN Live. My children have attended colleges with Newman Clubs, Newman Centers, and it is impossible to imagine their college years without the influence of the Newman experience." - Ann
"I just watched EWTN showing your program at UNeb. I'm so sorry I did not get good catachisis and consequently, I didn't properly catechise my children. I admire your scope and practice at your university. I think the Newman Centers will make a big difference in our country by the caliber of our priests and the catechisis of parishioners. Thank you for your concerted efforts. I pray they continue - with the enthusiasm I observed, I feel confident it will." - Janet; Peoria, Arizona