Emily and Josh's Story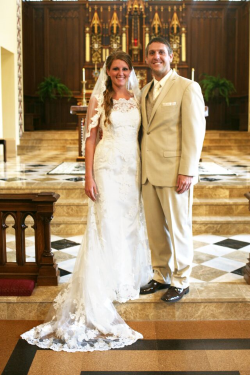 We came to the Newman Center as outsiders. We weren't Catholic, and, in fact, we weren't sure we even liked Catholicism.  Individually, we each relied on friends to invite us to the Newman Center's RCIA program where we were both accepted, but challenged in what we believed.
The RCIA classes taught us the fullness of the truth of the Catholic Faith and provided the space needed to 'wrestle with God' in these newfound truths, as well as the means to grow in our faith.
Emily's Story
Growing up, I attended a plethora of Christian churches. My dad is Catholic, so I was baptized in the Catholic Church as an infant, but my mom is not Catholic so they decided to have us attend Sunday school and church at the Presbyterian church in Norfolk. In high school, my two best friends were preachers' kids, so I attended Christian youth group services with them at their churches.
Once in college, apart from friends and family, I was able to begin my personal search to find a church 'home'.  For three years I bounced between 20 different churches, never able to find a true connection or a place to call 'home.'
One summer I worked with a girl who was Catholic. She had a faith that I'd never seen in a Catholic before and she dedicated ample time and energy to answer my questions and lessen my doubts about Catholicism. One night, she invited me to pray with her in the Newman Center chapel. They were having 'adoration' as she called it. She briefly explained the meaning of adoration, the presence of our Lord in the host within the monstrance.
When I entered the church, I remember being in complete awe. The silence, the kneeling, the reverence; all in honor of the Lord; all denoting something more grand than I'd ever experienced, or been in the presence of before.  I had a feeling of never wanting to leave. I was beginning to feel at home.
Josh's Story
I was born and raised in a non-denominational 'spirit filled' Christian church that my parents started with some of their friends a few years before I was born. When I was a child, my parents did a wonderful job stressing the importance of having a relationship with Jesus and always putting God first in our lives.
Once I moved away from home, I found it difficult to find a church like the one I grew up in. I tried a few different churches and over the course of a couple of years, I began to find myself attending fewer and fewer services of any kind. The next three to four years I really struggled with my faith. In college, I did quite a bit of partying, which led to a low point for me and I knew that I needed to start making some changes.
I had just started trying out a few churches again when I met Emily through a mutual friend. She had a love for Christ that I had never seen before and I was astonished when I found out she was a recent Catholic convert.  At the time she was helping coordinate the RCIA program at the Newman Center and asked me if I wanted to come check it out. I reluctantly agreed; I had to see for myself what had Emily so on-fire for God. 
Over the next eight months, Father Holdren, Father Matya, and Emily helped me fall in love with the history and the beauty of the Catholic Church. Much to the dismay of my parents, I ended up getting confirmed at the Newman Center at the conclusion of RCIA, and I finally felt like I had found a home in the Catholic Church. 
A Strong Foundation
 The Newman Center provided us with resources to learn and opportunities to foster friendships with fellow students who continue to encourage us in our faith. We cherish the moments that we spent in prayer – and still spend on occasion – in the Newman Center, contemplating the beauty of God, what He means to us, and what He might have in store for our lives.  While praying for our vocation to marriage, we frequented the abundant hours of Eucharistic Adoration offered. This has provided us with the foundation we need to have a Christ-centered marriage and hopefully family in the near future.
The Wedding
We decided to get married at the Newman Center because it played such a major role in our faith formation, and is a big part of why we are Catholic today.  Our wedding was the second weekend of weddings in the new church. The ceremony was beautiful – everything a girl could dream of. 
Due to our family backgrounds, we had mostly non-Catholics attend our wedding and were happy to hear that several people were drawn into the beauty and grandeur of God because of the beauty and grandeur of the church. We have pictures of people during the ceremony just gazing at the stained glass window at the front of the church.
One former Catholic even stated that attending our wedding made her want to be Catholic again – she said she misses the holiness and beauty of Catholicism.
A Place to Call Home
Every time we go back to the Newman Center it still feels like home, even though there is a completely new building, a new assistant pastor and a whole new class of students. The charity of the clergy, staff, and student leaders of the Newman Center are why we are Catholic. Without the tireless efforts of these people and the Newman Center, we might still be searching for a 'home'.
 This church will always hold a special place in our hearts. We still help with the RCIA program at St. Thomas Aquinas because of the significant impact it had on us. We will continue to give what we can to the Newman Center to help it thrive and change lives of college students and community members for years to come.