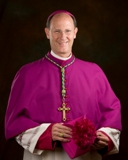 "It was during my college years that I converted to the Catholic Church. The decisions I made during that time in my life really shaped my future. A good part of my pastoral ministry, both as a priest and as a bishop, has been spent working with college students. It was my own experience as a college student that gave me such a passion for campus ministry. Fr. Matya has that same passion for campus ministry and what is happening at the Newman Center at the University of Nebraska is truly phenomenal. I really think that the UNL Newman Center is poised to become the premier Catholic Campus Ministry program in the United States. It is already arguably in the top five. I have tremendous hope for this "millennial" generation who are just now coming of age. They are the ones who have the potential to transform our culture for decades to come, creating a culture of life and a civilization of love. Please join me in being a part of this exciting adventure."
Bishop James D. Conley,
Bishop of Lincoln
---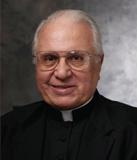 "Within the campus culture, the illusion of sin pulls many students toward a way of life which is distant from God's intention. Yet, through an active sacramental life and participation in the ministries offered at the Newman Center, students are oriented toward heaven, finding the courage and perseverance in prayer to grow in holiness and properly discern God's will in their lives."
Most Reverend Fabian W. Bruskewitz,
Bishop Emeritus of the Diocese of Lincoln
---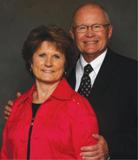 "Pat and I have been an active part of the life of the Newman Center ever since our college days, which was more years ago than we want to admit. We have always been inspired by the commitment of the students to their faith and to the Church. Each year it is exciting to watch another new group of students who are making the Faith "their own". The overcrowding of the current Newman Center from the growth of the programs, the nearly 100 Bible studies, and the standing room only at many of the Masses is truly "A GREAT problem to have"! Pat and I are thrilled to be a part of solving this problem. We feel that we are called to help leave a legacy for future generations of future Catholic university students. These experiences are truly having a profound effect upon these kids, their faith and the faith of others, and the culture of the UNL campus. Please join us in solving this "great problem" that we have.
John and Pat Miller,
General Campaign Chairs
---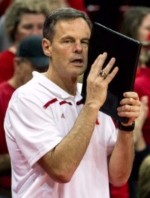 "My philosophy is simple, 'Dream Big.' The NU Volleyball program, much like the Newman Center, has a rich tradition of success. Both have become leaders amongst their peers, but have much more potential for growth. Father Matya's passion and vision for reaching out to students is a vital part of his success today and will carry the Newman Center forward toward even greater achievements. Father Matya has a big dream, one that I share with him, impacting as many students as possible with the truth of the Gospel."
Coach John Cook
UNL Head Volleyball Coach
Three Time National Champion
Campaign Honorary Chair