FOCUS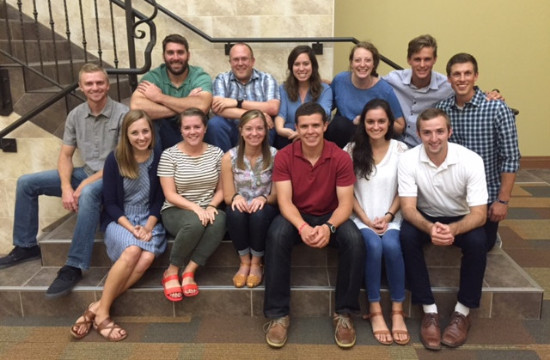 FOCUS, which stands for the Fellowship of Catholic University Students, aims at inviting college students into a growing relationship with Christ and His Church, inspiring and equipping them for a lifetime of Christ-centered evangelization, discipleship, friendship in which they lead others to do the same. The University of Nebraska-Lincoln is served by eleven full-time missionaries, most of whom are recent college graduates themselves, who are on campus daily leading Bible studies, mentoring students one-on-one, leading retreats, and evangelizing on campus. When students are interested in being in a Bible study, leading a Bible study, asking questions about their faith, or wanting to know how to get more involved in Catholic life on campus, FOCUS is ready and excited to serve them! Some missionaries are specially assigned to work with the busy schedules of student athletes (Varsity Catholic) and students in the Greek system (FOCUS Greek).
FOCUS organizes men's and women's Bible studies throughout the week led by both missionaries and students. A weekly Bible study is a great way to get plugged in to a smaller Catholic community amidst the larger family of the Newman Center and to develop life-long friendships while encountering Christ in Scripture.
One of the most exciting events for FOCUS is the SEEK conferences. Every other year, over 12,000 college students from across the country will gather to hear dynamic speakers, attend Mass, network with each other, and encounter Christ in an entirely new way. Past students who have attended a national FOCUS conference consistently comment that the week is absolutely life-changing and that they experienced the Catholic faith like never before. In January 2017, the Newman Center took almost 400 students from Lincoln.
Our Team



Ashley Montag




Josh Fatzinger




Logan Burda




Liz Langan




Luke Miller




Maggie Otlewski




Alex Fontana




Joel Sarmiento




Max Chapman

Varsity Catholic Missionary




Amber Crites

Varsity Catholic Missionary
To learn more about FOCUS or to talk to a missionary, please contact ashley.montag@focus.org.
---
Bible Studies
Our hope is that all students will engage in something deeper than just being an average Catholic. With the help of our FOCUS Missionaries, we strive to invite each student to a Bible study where they can foster and grow in a small group setting. This fellowship allows them to develop true authentic friendships with people they can rely on and grow with in holiness. We pray that they will gain a love for Scripture and better understand the Written Word by the time they graduate, and will then go out and start their own Bible study in their permanent parish.