Phi Kappa Theta Fraternity

The Phi Kappa Theta – Nebraska Pi Chapter currently counts 57 residential members. Phi Kappa Theta routinely ranks among the top fraternities academically at UNL. The Catholic identity and culture of Phi Kappa Theta is strong, with many chapter members choosing to participate in weekly Bible studies and attending religious retreats, along with intramural sports and other collegiate activities. Members have participated in international mission trips, including trips to India, Peru, and Haiti. Upon graduation, members of the founding class of Phi Kappa Theta celebrated with a pilgrimage to Rome and Assisi, Italy.
Virtue-based leadership and character formation are a priority at Phi Kappa Theta. During its short time on campus, a Phi Kap has served as UNL's interfraternity council president and was awarded UNL's Outstanding Student Leadership Award. Other Phi Kaps have held leadership positions within the interfraternity council, UNL's student government, and participated in honorary societies such as Mortar Board and Innocents Society. A Phi Kap has been chosen as a member of UNL's homecoming court and another now serves on the Phi Kappa Theta National Council.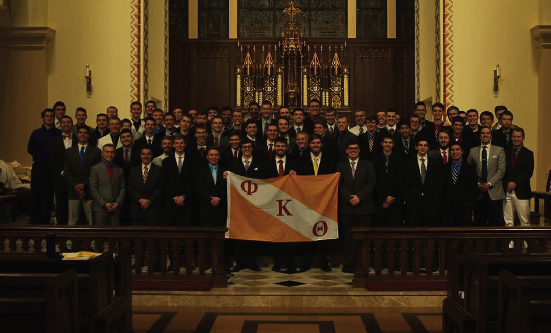 Seventeen Phi Kaps have entered seminary studies for home dioceses, including the Archdiocese of Omaha, Archdiocese of Kansas City – St. Joseph, MO, Diocese of Lincoln, and the Diocese of Sioux Falls, SD, while two have entered religious life. Eleven Phi Kaps currently remain in seminarian studies, with the first two being ordained as deacons this spring.
Five graduates from UNL's Phi Kappa Theta chapter have been hired to serve as FOCUS missionaries, evangelizing college students on campuses across the country. Other alumni are currently in law school, medical school and graduate school. Further, the Nebraska Pi chapter now serves as mentor chapters for newly-established chapters at South Dakota State University and Colorado State University, helping to develop successful faith-based fraternities there as well.
17 men from Phi Kappa Theta Fraternity have entered seminary studies
11 Phi Kappa Theta alumni are currently in seminary studies
2 will be ordained deacons this year - one for the Archdiocese of KC - St. Jo and one for the Diocese of Lincoln
Find out what the boys are up to here!

---
Pi Alpha Chi Sorority

Pi Alpha Chi was founded at the University of Nebraska-Lincoln in November 2012. The intent was to create a sisterhood immersed in Catholic values that would be a formative influence on the participating women and a light among the campus's Greek community. 
As a Catholic sorority, the mission of Pi Alpha Chi is to provide collegiate women with opportunities to pursue a virtuous and sacramental life through participation in a Greek learning community intentionally founded upon and centered around the teachings and practices of the Catholic Church. Our mission is supported by four pillars: leadership, fellowship, citizenship, and scholarship.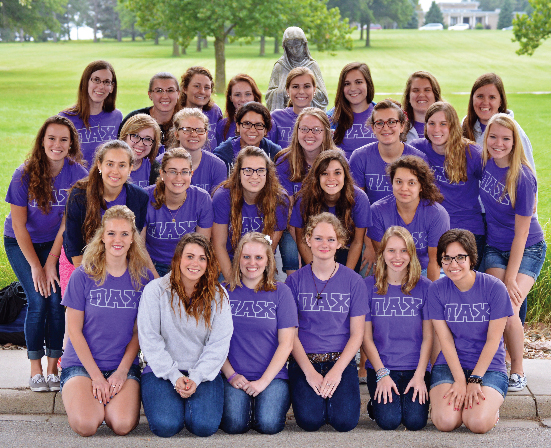 As of Spring 2015, the chapter consists of 42 women from diverse ethnic, regional, and academic backgrounds that continue to grow in friendship and faith. 
As a final component of the Newman Center's Capital Campaign, construction of the Pi Alpha Chi chapter house will begin soon. The house will be located at 640 North 16th Street, a central position along the University's Greek Row. 
We are currently recruiting young women who would like to enhance their time as a college student by immersing themselves in a learning community that values citizenship, fellowship, leadership, and scholarship. As a member, women will have the opportunity to grow as student leaders alongside other inspiring and encouraging women.
See what the girls are up to here!