Autumn's Story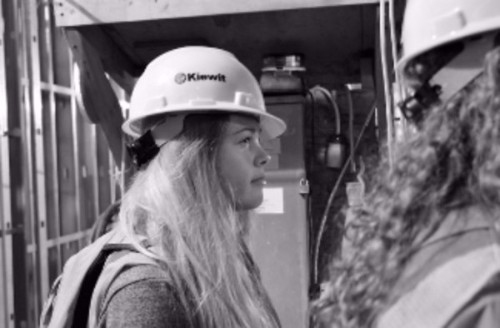 "'How has Newman Center made you see the world differently?' –Father Benjamin Holdren
This conversation happened last night when I was in a panic trying to write this piece for you. I expressed to him my worry about how I was still going through the process of understanding what Newman and the Catholic faith have given me thus far.
The Newman Center has brought me from a place of desolation to restoration, hate to love, and fear to trust. In each of these expression holds an interpretation. I was living my life and I was certainly not under the impression that I was not being "fully fulfilled." This finding did not completely occur to me until I was kneeling before our Lord, Jesus Christ on the Holy Stairs in Rome, Italy.
My journey with the Newman Center began with my first Mass, which was Easter Vigil. I came my senior year of high school. Little did I know that was going to be the longest I had ever sat still. It was also going to be dim and filled with individuals around me saying things in unison that I didn't know. Walking away from this experience I was uneasy. However, I do remember thinking back to how beautiful the community woven in the church felt. My discomfort stemmed from my inability to participate because I felt silly not kneeling when I entered my pew. Coming into college I realized that I wanted to find a place to grow deeper in faith. Remembering the sense of community the Newman Center emitted, I was drawn to it initially. I am in a sorority and found myself at FOCUS Greek which is where the Greek system has the opportunity to come together in fellowship and worship. Here is where I made great leaps in my faith. I was challenged in a variety of ways. I was asked to look at different perspectives and to start to open my heart to knowledge of which I had never been exposed.
One thing that I always perceived about the Catholic Faith was their lack of open mindedness, which surprised me at first because I was being asked to let all my guards down in order to listen. I learned that the people of the Catholic Faith not only act from a loving point of view, but also that the feeling of insecurity I sensed did not come because they wished that for me.
I continued my walk with faith when I was given the opportunity to participate in the pilgrimage to Italy with the Newman Center. Here I realized that not only is there a community in Lincoln, but one with open arms across the world. My first Mass in Italy was a remarkable one. We sat in the middle of Assisi in a small church in the middle of town called San Stefano. Imagine a church with ten pews that lines each of the cement-like walls, where a simple dangling cross was our guide to see the light. Father Holdren taught us about how sometimes we are so caught up in our own lives that we forget to look at what is directly in front of us. He said that St. Francis gave up everything that he had in order to follow Jesus. Here he asked us to let go of everything we had at home and focus in on what Jesus wanted for us in Italy. I have notes of the entire trip from each Mass and homily so I can always feel the love experienced. Italy alone did not change my life, but the people that were placed along the way did. Father Holdren was a leading contributor to this change. I was continuing to be shown that the Lord wants you to surround yourself with individuals that are going to lead you to be the best version of yourself, and I was learning that the best version I could be was with Christ as my savior.
At our last meal we all ate as a group together, and we shared what we learned or liked the most about our experience. Here I got to see a little bit of how each heart had been touched in a significant way. I stood up and got to let each person know that they contributed to my heart being touched. I shared with them that being able to watch 40 young people sit in silence just to listen to what the Lord wants for them was not something I knew how to do. I told them that I was going to transform myself into becoming a Catholic because each of them were people I wanted to be more like. I am proud to be a part of my generation because we are passionate and a lot of us are passionate about God.
I am here as a junior studying psychology where I plan to change the world. Although I am just starting to change mine, I have no doubt I have already begun changing others. I want to lead by example and the best example I have to live by is Jesus. I have started RCIA where I will be challenged to grow in perspectives. I want to receive the body and blood of Jesus. I know it to be true that the Catholic Faith is the best way to grow closer to God. I want to feel full and alive."
Sincerely in Christ,
Autumn Trujillo, UNL