Chloe's Thoughts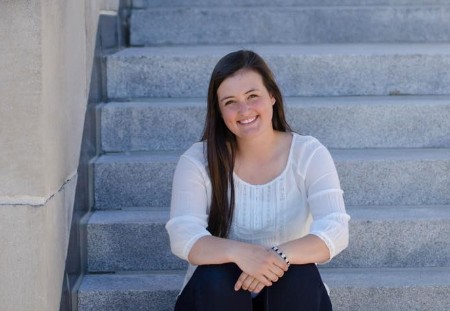 Husker Catholic
As many of you know, I have the pleasure of working at the Newman Center here on campus. (Talk about a dream job!) Each week I get to watch as this new, beautiful building is being utilized in every possible way for which is was designed. It seems that everyone that walks through those large front doors has a different agenda, but somehow they all come together to form a beautiful community. This spurred me to question what it means to be a Husker Catholic. I think in a nutshell it can be defined by the one sign displayed on the front steps that says "Everyone is Welcome." That phrase to me means "You Belong Here". In college we are all looking for our place in the world, and I know that, through the Newman Center, I have found mine. When I walk into the building I feel like Norm from the TV show "Cheers" (where everybody knows my name). There has never been an occurrence when I walk into the building and I don't find someone I know. This mentality is not only within the walls of the building, it is all around campus. It seems like no matter where I am, I find a fellow Husker Catholic to exchange pleasantries with. A great example of this was three weeks into the school year when I walked into my calculus recitation and the girl behind me complemented me on my acting abilities (I had starred in a video shown at community night the night before). We started talking and I found out that she is involved with Newman too so we become instant friends, thanks to the magic of the Newman Center. 

    One of my favorite things about being a Husker Catholic is that once you are in the club, you are in it for life. The other night I was sitting on one of the comfy couches listening to music and doing homework when a couple of young adults came in. They sat down near me and conversed about the good times they had experienced at Newman. Even with the new building, they said that it was the atmosphere that brought back a sense of being home. The smile from the crazy missionaries running around, a sighting of Father Matya, students working on different random projects, the regular day to day buzz that creates the atmosphere that they remember. That creates the atmosphere that people fall in love with and makes the Newman Center a home. We only spend a brief time in college but an experience like the Newman Center leaves an impression for a lifetime. While I am a newcomer to this Husker Catholic family, it has already changed my life. I have formed friendships with people from around the country. I have spent countless hours laughing at the hilarious happenings going on. I have had profound Holy Hours or Masses that have brought me closer to Christ. I have shared my faith with the people around me and that creates an inseparable bond. 
  
 If I had the opportunity I would ask every wandering soul walking through those doors why they are here and what Husker Catholic means to them because I can guarantee that no two answers would be alike. For some the Newman Center is their social circle, to others it's a place of refuge, for some it's a place they go to please their mom, but to all it's where they are welcome, and more importantly it is where they belong. I am Husker Catholic and I am where I belong.  
-Chloe Kreikemeier-
---
Spring Break Mission Trip
   Now that I have a second to breathe after spring break, I thought I would give everyone an update on my half of Smith 417. In the past few weeks I learned that sometimes God throws great opportunities right into your lap and all you have to do is say yes. One night I was working at Newman discussing with people our plans for spring break. At this point I had a few trips on my plate that I could not decide between so of course my friend, Eric Zimmerman, throws one more possibility at me. He invited me to come on a Christ in the City mission trip with a bunch of top notch human beings. So true to my nature, I impulsively signed up for a trip that I knew nothing about. Looking back, God knew that is where He wanted me over spring break. The trip was not only life changing, it was soul changing.
Over Easter people kept asking me about the trip and I alway had to pause for a moment to try to sum up the amount of awesome that I experienced in those four short days in downtown Denver, CO. For those of you that have never heard of/experienced Christ in the City, it is a mission in Denver to know, love, and serve the poor. They made it a point to say that many organizations serve the poor which is great but they take that extra step to show love to people who are often times experiencing a lack of love, which makes the world of difference in these peoples lives. The love that poured out of the hearts of the missionaries, the friends I met on the street, and the people that went on the trip with me was almost palpable.
I went into the trip with the mindset of I get to be the face of Christ to others, but in all reality they were the face of Christ to me. One of the women who works at a shelter brought up this idea and it stuck with me as I went onto the streets to converse with the homeless. My friends on the street taught me things about myself and things about life in general that I will hold in my heart forever.
One of my big takeaways from the trip is the art of real conversation. Conversation is something so simple but so lost in the distractions of our lives.  The people I met on the street had nothing to hide so within minutes they would hand you their soul on a silver platter. They told me of their pasts and their futures, their hopes and dreams, their fears and sorrows. I reflect on the relationships in my life and it usually takes months for me to warm up to a person and let them delve into the mess that is my life. I left each conversation I had feeling like a better person because it was an honest, genuine conversation. My challenge to anyone reading this is go get some coffee with a friend or intriguing person and try to engage in an honest conversation about life. You never know the treasures hiding inside someones' mind. This is a spring break that I will never forget and now I just have to muster up enough focus for this last month of school.
God Bless, Chloe Kreikemeier.