Kalyn's Story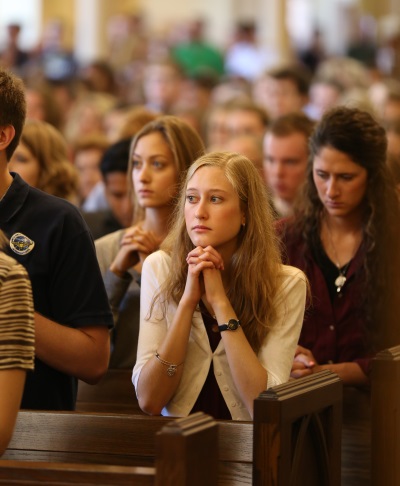 1. How do you want to grow in your faith throughout college?
I want to grow in my faith throughout college by going to Mass not just on Sundays and Weekends but attending daily Mass to help grow in my faith, joining and attending bible studies, faith retreats, and to attending Adoration more.
2. Why did you get involved in PAX?
The main reason why I wanted to join PAX was because the faith is incorporated in everything that the sorority does and because the Catholic Faith is so strong within the sorority. My faith is very important to me and I wanted to join something that would help me be able to grow more deeply in my faith in college. I want my faith incorporated into different aspects of all my life. This sorority had just that and everything that I was looking for. I also joined Pi Alpha Chi to meet new people and make new friends that will last a lifetime.
3. What has been your experience in PAX so far?
My experience in PAX so far has been very positive since I joined. I have met a lot of new friends and godly women who have helped me and encouraged me to grow in my faith. I have been able to grow in my faith by attending sorority events, which are faith based, such as faith enrichment events, attending Mass together as a sorority, praying together before and after we do things, etc. My faith has been stronger since I came to college because I have joined this sorority. Lastly, my experience in PAX has been positive so far because I have been able to meet new people who are struggling with the same struggles that I am going through in my life, and people who I can talk to when I am feeling sad or when I need advice on something.
 4. When are you at the Newman Center?
I am at the Newman Center for Mass every Sunday and even daily Masses. I attend a bible study through the Newman Center that I just joined, led by a FOCUS missionary. My sorority also has study hours, so I study at the Newman Center library often. I just spend time at the Newman Center to meet new people who have the same Catholic Faith and values.  I also attend community nights on Thursdays after going to the Thursday night Mass.
5. When did you start growing in your faith.
The time period in my life where my faith started to grow and "take off" as I would say, was after 8th grade when I was Confermed . That day was when I felt like a whole new person. I felt like a godly creature, or like a saint as I would say, when the bishop placed his hands upon my head and said the powerful words to me. That day was when I really truly felt the Holy Spirit upon me and when I really felt God's presence. Since then, my faith has grown stronger in many ways because I know that God and the Holy Spirit will be present within me when I am talking or calling to Him because I truly felt His presence on my confirmation day. The day when I became a "new, godly person."
6. How has your faith affected your life?
I am very fortunate to have not had my faith affect me in any negative ways, but my faith has affected me in very positive ways. My faith is within me every day of my life. I pray to God, and talk about the faith in some way every day and constantly. This is how I get through my days. When my days are challenging or when they are exciting, fun, and interesting my faith is with me. Without my faith I would be lost in this great big world. I would be isolated and would not be able to do anything or get through anything. I use my faith throughout my day whether it is by myself or with people. I even pray when there are people around because I don't care if they mock me or make fun of me because this is who I am, just a college student trying to get through the challenging tasks that go along with being a college student. My faith has probably been the strongest that it has ever been since I have gone to college. College is challenging and I have been really homesick and depressed because I am away from my home and the people that I love so much. The only way I get through it is with God. God is always there and will help me get through all of my struggles, but what I have learned is that I have to be open to asking for help and receiving the help and guidance from Him. Overall my faith has affected my life by receiving "new lights" and by making my life better and easier.
7. What is your favorite memory of Pi Alpha Chi?
My favorite memory from Pi Alpha Chi was the Big Sister - Little Sister Reveal when we found out who our "big sister" was, the person who will always be there for us whenever we need her, the person to ask for advice, and a person to talk to about your life in general. This memory was so fun because we got to bond together as a sorority and got to know each other a little bit better. Also we got to play fun games and do fun activities.
Learn more about Pi Alpha Chi.