A Note from Our Pastor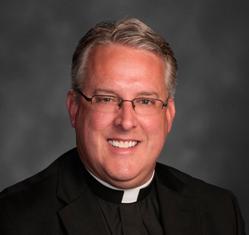 Dear Friends,
Each day for the past eighteen years, I have been privileged to witness the miracle of God's transformative grace at work in the hearts, minds and souls of college students. Students today are faced with unimaginable social and moral pressures, far beyond what my generation did. And yet, despite the difficult challenges, students today have a longing for the peace and stability of living their Catholic Faith. Many find this comfort at the Newman Center. As the number of students who embrace their faith continues to grow, they become a powerful witness of Christ's love throughout the University of Nebraska-Lincoln campus. That witness is shining brightly at UNL!
Through the efforts of our FOCUS missionary team, we currently have 65 weekly Catholic Bible studies, with over three-hundred students participating. FOCUS, along with the many other exciting ministries offered at the Newman Center, enables students to grow in holiness, discern God's personal calling in their lives, and fosters their Christian leadership through serving others in their community. The fruit of these dynamic opportunities is a rapidly-growing student parish, to the point of overflowing our previous church and student center. Together we have a responsibility to continue ministering to the spiritual, social and leadership formation needs of college students in a welcoming and accommodating facility. Through our "A Great Problem to Have" Capital Campaign and construction projects, we now better serve the needs of over 6,300 Catholic students attending the University today and generations more to come.
The generosity of early campaign donors has put us well on our way toward our initial $25 million goal, but we need every alum, parent, grandparent, and friend of the Newman Center to consider a sacrificial gift to the campaign. I invite you to join thousands of others from across the country to support this truly historic effort. Thank you for your prayers and support. 
Together we have been blessed with "A Great Problem to Have!"
In Christ,

Father Robert Matya, Pastor and Chaplain